A full Range of janitorial services
Our professional cleaning staff provides an extensive list of cleaning services for commercial and residential properties. Allow us to get your home, office, or commercial building looking its best!
Construction Cleaning
While there are a growing number of construction projects happening all around us, we're here to help with the aftermath of every job. Although construction work can leave quite the mess behind, you don't have to worry about doing the cleaning yourself. We'll help pick up after the contractors while leaving your property in the cleanest condition possible. From removing dust from floors to wiping down windows, sweeping, mopping, and more, our expert cleaning staff will take care of the dirt, dust, and debris often left behind by construction work in no time for you.
Hospitality Cleaning
When working in the hospitality industry, prioritizing cleanliness is a must. We know it's easier said than done, but we're here to help by providing our convenient hospitality cleaning services. Our staff will come out to your property as often as you'd like to complete various cleaning services, such as wiping down and sanitizing counters, scrubbing walls, washing linen, and vacuuming floors. Having a clean property will impress your guests, leaving them even more satisfied with the experience of visiting your place. Tell us what you need help with, and we'll get started! You can schedule your cleaning services daily, weekly, or bi-weekly, whichever works best for you!
Office Cleaning
Maintain a clean, welcoming office environment with our office cleaning services. No one wants to work in a dirty, unsanitized environment. Allow us to complete the tasks that will keep your office spotless, such as wiping down and disinfecting surfaces, sweeping floors, mopping, cleaning bathrooms, and taking out the trash for you. A clean office increases comfort, boosts morale, and leads to higher productivity rates amongst staff members because everyone can focus more on their work and less on the dust, dirt, and germs throughout the building. Having a clean office keeps staff happy and will leave a better impression on your patients/clients.
Janitorial Clients

Rangers Cleaning and Contracting offers convenient janitorial services designed to save clients time while helping them maintain their properties to keep them in the best condition.
Schools
Students, staff, and faculty at schools deserve to learn, work, and volunteer in a clean, dirt-free environment. Prioritize cleanliness as your educational institution with our experienced, highly skilled staff members ready to tackle any janitorial tasks you might have. Whether you need the trash taken out, floors mopped, bathrooms cleaned, or anything else, we're here to ensure your school is dirt-free and sanitized.
Medical Facilities
Prioritize cleanliness in medical facilities with help from our staff. We clean, disinfect, and sanitize to ensure that you're meeting the standards and offering a safe, clean space to all who enter your establishment.
Government Buildings
Dozens of people go in and out of government buildings each day, quickly leading to the accumulation of more germs and dirt. Stay on top of the problem while utilizing our convenient cleaning services. We'll do the job so that your staff members don't have to and can continue working on their government-related tasks.
Gyms
While some would consider gyms a breeding zone for germs because of all the sweating going on, we're here to make sure that isn't the case for your gym. Allow us to clean and sanitize your equipment and fixtures. We'll work carefully yet efficiently to keep everything in good working order while removing dirt, dust, and germs from surfaces.
In addition to these establishments, we also provide cleaning services for motels, farms, warehouses, factories, hotels, restaurants, and more. If you need professional, dependable cleaners to get the job done, we're the company for you!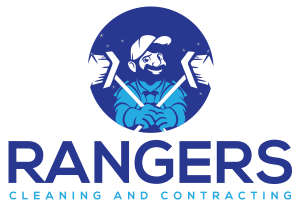 See What our Customers Are Saying
Rangers Cleaning has done a fantastic job providing our daycare with janitorial services. Because children can quickly spread germs and illnesses, we need to have the building cleaned and sanitized several times a week. The staff at Rangers Cleaning always arrives on time and gets the job done!""
I've hired Rangers Cleaning repeatedly to help me keep my office in excellent shape. I see a handful of patients each day, and I wouldn't want them to come into a dirty, rundown office. The staff makes sure that I never run into that problem by handling all of my cleaning concerns. I'd recommend them to anyone!
Rangers Cleaning is Fast , Precise and Pleasant. I will continue to work with the for a long time!